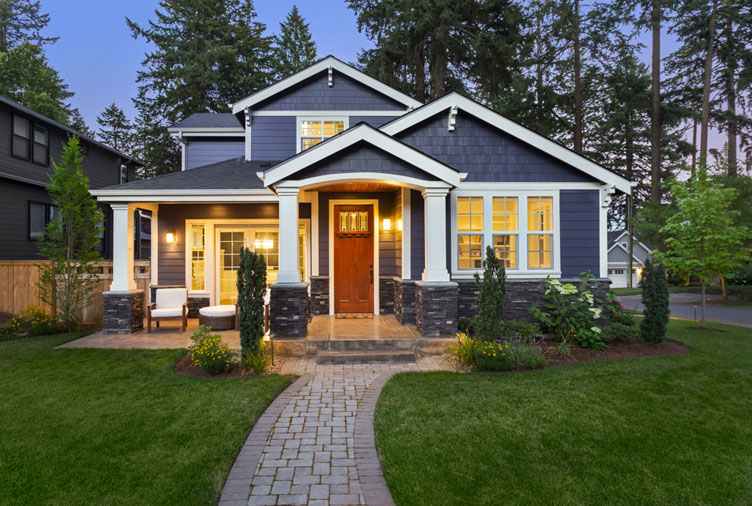 17 curb appeal ideas that will entice homebuyers
Spring is the perfect season for an exterior home makeover.
1. Edit your exterior — remove kitschy lawn ornaments, dead plants or dated awnings.
Photo: thatkentuckygrl/Instagram
2. Repaint the exterior trim to freshen up the look of your home.
Photo: cottage_a_day/Instagram
3. Use stone veneer to cover up your home's concrete foundation.
Photo: thegraycottage/Instagram
4. Swap out your address number for something more contemporary.
Photo: kindredvintage/Instagram
5. Choose a front door paint color that will stand out in an online listing.
Photo: jennbunz12/Instagram
6. Update your exterior door hardware — black matte adds edgy contrast.
Photo: nestingwithgrace/Instagram
7. Give your weathered mailbox a DIY makeover.
Photo: livingletterhome/Instagram
8. Make your home more visible from the street by installing porch lights.
Photo: courtneyperkinsdesign/Instagram
9. Liven up your landscaping with colorful plants.
Photo: homehydrangea/Instagram
10. Or frame your entryway with eye-catching planters (you can take them with you when you move).
Photo: marleneandgenesdrealestate/Instagram
11. Incorporate welcoming touches, like a hammock chair or porch swing.
Photo: steelemountainrealty/Instagram
12. Invest in new garage doors that add architectural interest.
Photo: strittdesignandconstruction/Instagram
13. Update your deck with decorative railings.
Photo: katemarkerinteriors/Instagram
14. Power wash or refinish the flooring in your entryway.
Photo: moderntexasliving/Instagram
15. Install a beadboard paneled ceiling that will have buyers looking up.
Photo: besidethemulberrytree/Instagram
16. Throw down a welcoming door mat or two.
Photo: decorfordoorsandmore/Instagram
17. Hang a simple, seasonal wreath to brighten up your front door.
Photo: homedecorallure/Instagram
Source: Livabl_ by BuzzBuzzHome